Description of Tempo
Contents
Suscribe to newsletter "Tempo" to follow up updates

What is Tempo ?
Tempo is an electronic reminder which functions under Windows (32 bits) and displays notes at will. Like Post-It Notes block but with time management. Once installed, it starts automatically with Windows and is summarized by an animated sand-glass in the task-bar of Windows (95/98/ME/NT4/2000). A complete help file comes with Tempo.

There is a tip associated with the icon.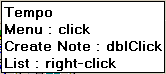 To create a note double-click on the animated icon of Tempo (sand-glass)
Size of notes can be changed and can comprise an alarm
The text zone is unlimited and can be printed.
With "Type of note" you can define repetitive notes.
With "Alarm in" you can recall your note in hours or minutes even if it has appeared by an alarm.
The button may be used to temporary mask the note else the note is always visible.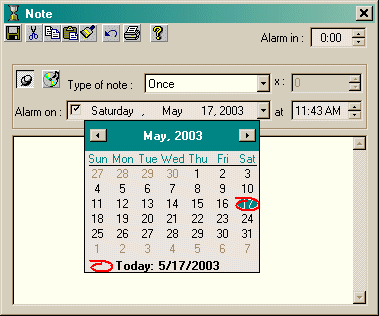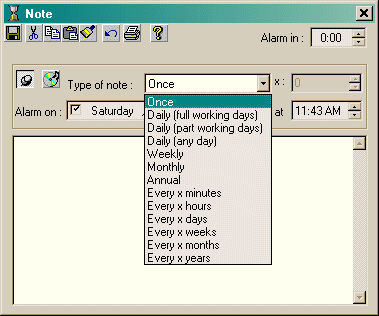 A clic on the animated icon of Tempo and the following menu appears: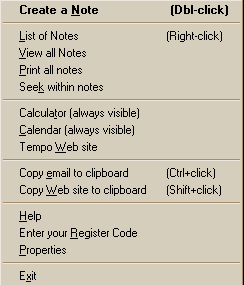 To seek text in notes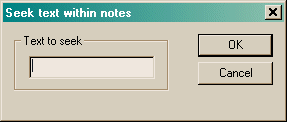 Calendar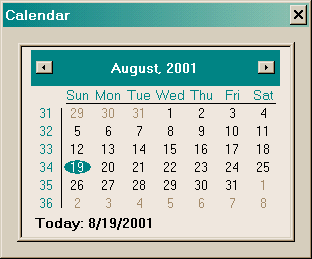 Properties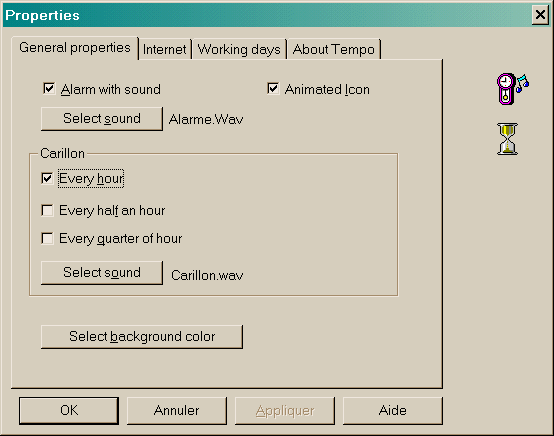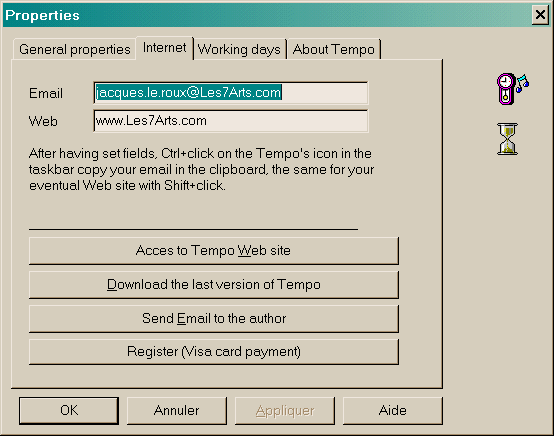 A list of notes can be consulted, with reference and access on each note.
By default notes are sorted on dates. They can be sorted on alphabetical or dates (up/down) order by clicking column titles.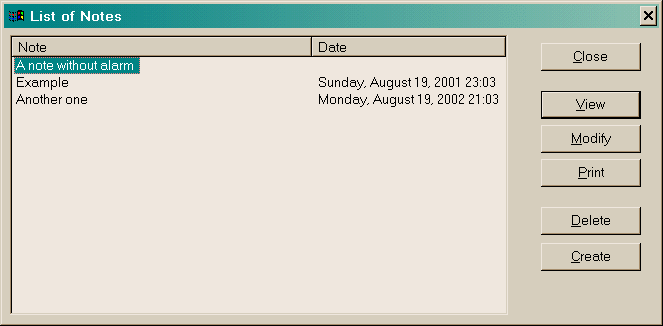 A visualization mode makes it possible to avoid unwanted modifications. It can be used in sequence, i.e. visualizing all the existing notes in continuation. It is rather practical, when one does not know very well which note to seeks.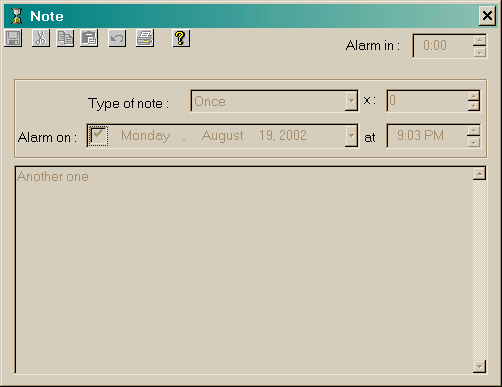 A help file is provided.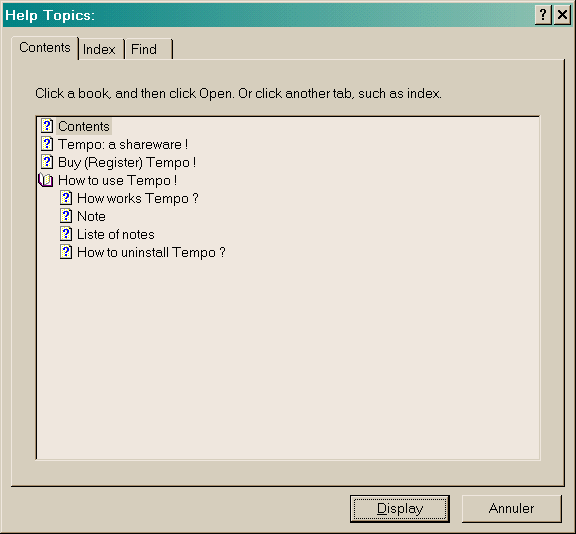 Yes, this version of Tempo is really an international version: you will see dates and hours in your Windows© choosen language, only titles and messages will remain in English. To see samples follow the flags:
If you don't find your flag don't worry all the following languages are also covered:
| | | |
| --- | --- | --- |
| Czech | Danish | Finnish |
| Greek | Hungarian | Icelandic |
| Norwegian | Portuguese | Polish |
| Russian | Serbo Croatian | Slovak |
| Swedish | Turkish | |
Sorry for the moment only occidental languages are covered. Perhaps later I will also cover middle and far-east languages, I apologize...

Where to find Tempo ?
By downloading it from the top of page, else writing to me (email or other!)

How to install Tempo ?
Tempo is provided with a standard Setup, no installation problem nor desinstallation.

I Got the message "The system file is not suitable for running MS-DOS and Microsoft Windows applications. Choose 'Close' to terminate the application." what can I do ?
This is not a Tempo problem but Windows, here is the official fix : http://support.microsoft.com/?scid=kb;en-us;324767

write to the webmaster